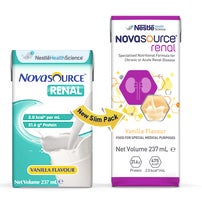 Specialised nutritional formula for Chronic or Acute Renal Disease
NOVASOURCE® Renal is a delicious nutritional supplement. It is low in potassium and specifically formulated for the dietary management of individuals with chronic or acute renal disease and those requiring electrolyte restrictions.
Each serving delivers 21.6g of protein, 1.94mg of Vitamin B6 and 475 kcal energy
2.0 kcal* per mL
Osmolarity 534 mOsm/L
Osmolarity 760 mOsm/kg water
Suitable as a sole source of nutrition
Vanilla flavor
Presented in 237ml Tetra pack
The dietary management of individuals with chronic or acute renal disease
Those requiring electrolyte restrictions
Contraindications:
Do not use in case of hypersensitivity to any of the listed ingredients.
Not suitable for children below 4 years of age.
Not for parenteral use.
Water, Glucose Syrup, Vegetable Oil (Low Erucic Acid Rapeseed), Milk Proteins (Sodium and Calcium Caseinates), Sucrose, Soy Protein Isolates, Minerals (Potassium Citrate, Calcium carbonate, Sodium Chloride, Zinc sulphate, Ferous Sulphate, Copper gluconate, Manganese Sulphate, Chromimum Chloride, Potassium Iodide, Sodium Selenite, Sodium Molybdate), Emulsifier (Soy Lecithin E322), Stabilizers (Cellulose E460, Cellulose gum E466), Acidity Regulator (Citric Acid E330), Choline Chloride, Vitamins (C, E, Niacinamide, Calcium Pantothenate, B6 B2, B1, Folic Acid, Beta-Carotene, A, Biotin, D3, K1, B12) L-Carnitine, Taurine, Natural and Artificial Flavourings.


---