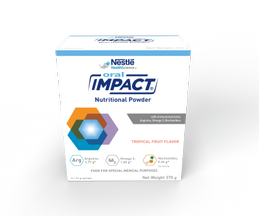 ORAL IMPACT®
ORAL IMPACT
®
is used for the dietary management of surgery and malnutrition or at risk of malnutrition in cancer patients.
ORAL IMPACT
®
contains
Immunonutrients
: Arginine, Omega 3, Nucleotides.
Arginine (3.77g per serve) has an important role in wound healing and tissue repair​
Omega-3 fatty acids (1.00g per serve) have multiple anti-inflammatory attributes which can decrease oxidative injury and reduce the inflammatory response​
Nucleotides (0.36g per serve) help with modulating delayed hypersensitivity response, response against tumor and grafts, immunoglobulin production, and response to infection.
References:
1 Marimuthu K, et al. (2012) A meta-analysis of the effect of combinations of immune modulating nutrients on outcome in patients undergoing major open gastrointestinal surgery. Ann Surg 255(6):1060–1068​
2 Drover JW, et al. (2011) Perioperative use of arginine-supplemented diets: a systematic review of the evidence. J Am Coll Surg 212(3):385–399 399 e1
Contains 100% high quality whey protein concentrate​
Contains L-Arginine (3.77g/serve)
Contains Omega-3 fatty acids (1.00g/serve)​
Contains Nucleotides (0.36g/serve)
Tropical fruit flavour​
Osmolality: 623 mOsm/kg H2O​
370g powder (5 sachets x 74g)
For surgical cancer patients (use perioperatively)
Pre-operatively: 3 sachets daily for 7 days​
Post-operatively: 4-5 sachets daily for at least 7 days​
For cancer patients: up to 3 sachets daily
For oral/enteral tube feed use. Not for intravenous use.
USE UNDER MEDICAL SUPERVISION​
sugar, whey protein (milk), maltodextrin, L-arginine, fish oil, minerals (potassium citrate, sodium chloride, calcium phosphate, magnesium citrate, potassium phosphate, zinc sulphate, ferrous sulphate, copper gluconate, manganese sulphate, sodium fluoride, chromium chloride, sodium molybdate, potassium iodide, sodium selenite), partially hydrolysed guar gum, medium chain triglycerides, corn oil, acidity regulator (E330), flavourings, sodium ribonucleotide, stabiliser (E415), choline hydrogen tartrate, emulsifier (soy lecithin), vitamins (C, E, niacin, calcium pantothenate, B , B , B ,A, folic acid, K,biotin, D), colours (beetroot red, beta-carotene), antioxidants (E304, E307, E306).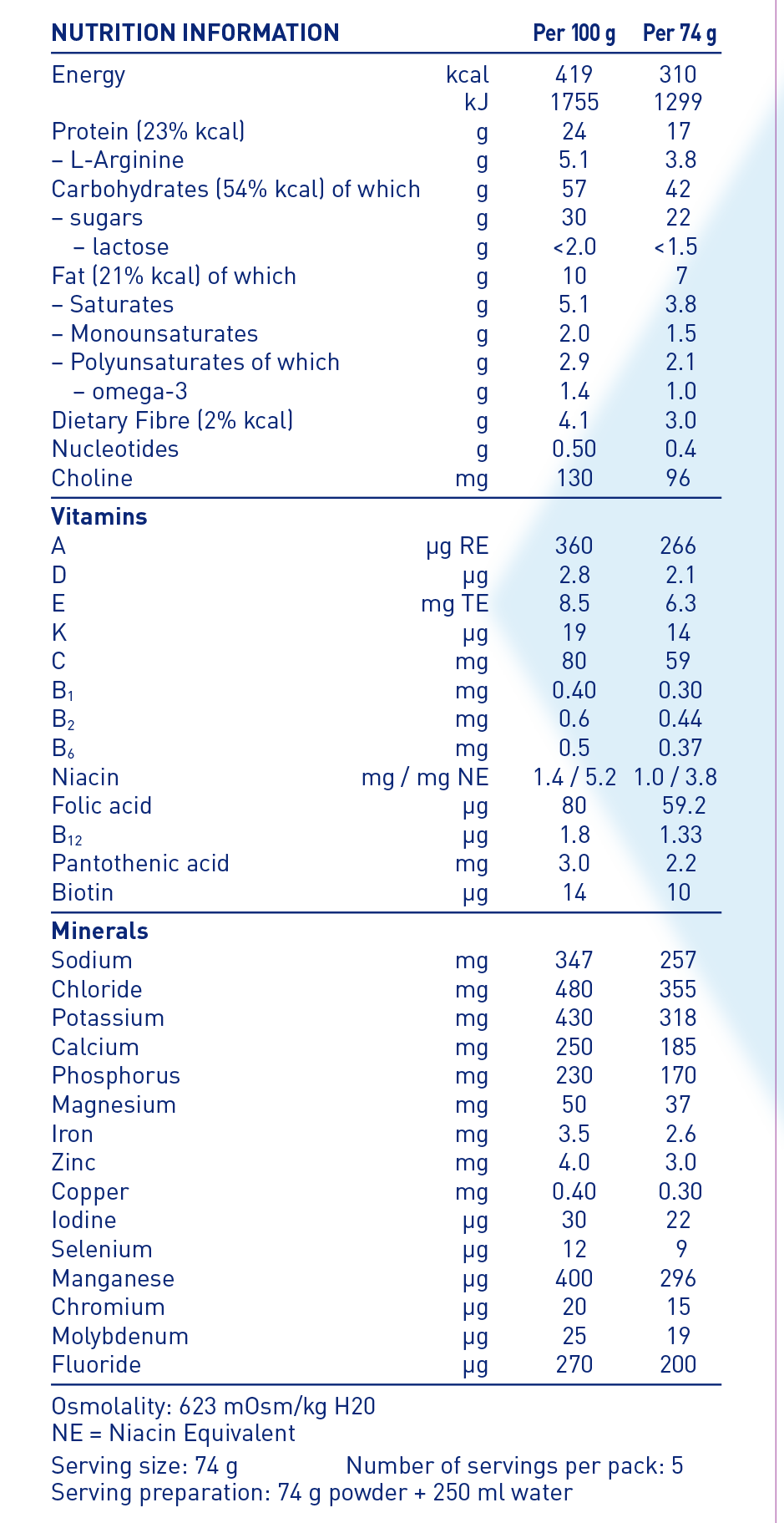 ---