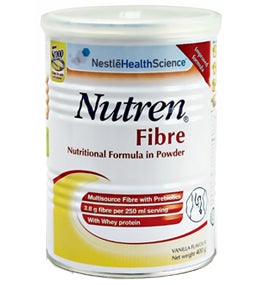 NUTREN® Fibre Powder
NUTREN®Fibre Powder is a nutritional formula for oral consumption or tube feeding, designed for the dietary management of the malnourished or the nutritionally-at-risk. It contains prebiotic fibres, high quality protein, essential vitamins and minerals, and a heart-friendly fat blend. NUTREN® Fibre is suitable for patients requiring long term enteral nutrition. It can be used as a sole source of nutrition or as a supplement. It has a low osmolality for enhanced feeding tolerance (Osmolality = 343mOsm/kgH20). It is gluten-free and lactose-free.
Can be used as a sole source of nutrition or as a supplement.
Each serving delivers 10g of protein, 3.8g of dietary fibre and 250 kcal energy
Protein source: Casein/Whey (50/50)
Low osmolality of 343mOsm/kg water
Fibre Source: 15.1g Fibre/ 1000kcal: 50% Soluble, 50% Insoluble
Prebiotics Source: Inner Pea Fibre, Outer Pea Fibre, Fructooligosaccharides
Vanilla flavour
Suitable for oral or tube feeding patients
Nutritional Applications"indications"
NUTREN® Fibre is suitable for:
Suitable for patients requiring long term enteral nutrition
100g of NUTREN® Fibre contains 6.5g of multisource fiber which helps regulate bowel movement
Maltodextrin, milk proteins (whey and potassium caseinate from cow's milk), vegetable oils (High Oleic Sunflower, Low Erucic Acid Rapeseed, Sunflower oil), sucrose fibres (pea fibre, oligofructose), minerals (sodium phosphate, potassium phosphate, calcium carbonate, calcium chloride, magnesium chloride, ferrous sulphate, zinc sulphate, manganese sulphate, copper sulphate, potassium iodide, sodium selenate, chromium chloride, sodium molybdate), emulsifier (soy lecithin), nature identical flavour (vanilla), acidity regulator (citric acid), choline bitartrate, vitamins (sodium ascorbate, DI-alpha-tocopheryl acetate, retinyl acetate, nicotinamide, calcium pantothenate, cholecalciferol, pyridoxine hydrochloride, thiamine mononitrate, riboflavin, cyanocobalamin, folic acid, phylloquinone, D-biotin), taurine, L-carnitine.

NOTICE: LINGAP Program will come to a close on March 31, 2018. Thank you for your continued support.
---