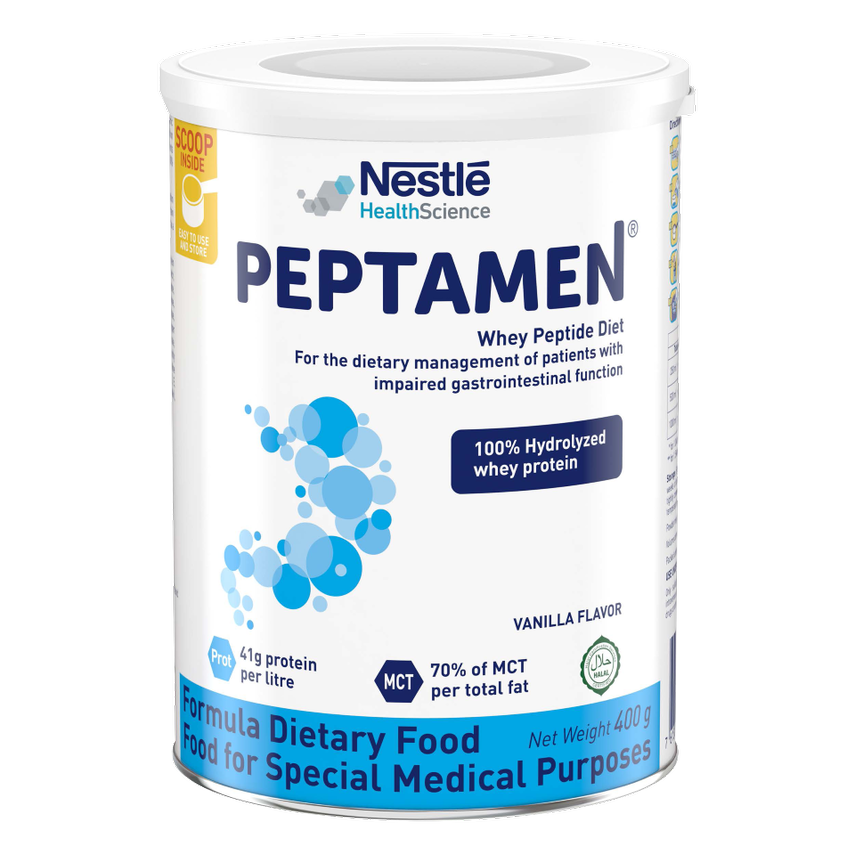 PEPTAMEN®
PEPTAMEN® 100% Hydrolyzed whey protein is appropriate for those with fat malabsorption requiring a low fat diet. It may be used for total nutrition support via tube feeding or oral administration. It is lactose-free and gluten-free. It is recommended for the dietary management of critically ill patients and those with impaired gastrointestinal function.

USE UNDER MEDICAL SUPERVISION Only suitable from 10 years onwards. Not for intravenous use. When used as tubefeeding, do not add drugs or other foods to the product.
100% Hydrolyzed Whey (Peptides)
70% of the fat as MCT
Low residue
Vanilla Flavour
430g powder
PEPTAMEN® is suitable for patients with:
Patients with fat malabsorption requiring a low fat diet
Maltodextrin, whey protein hydrolysate (milk), sucrose, medium chain triglycerides, potato starch, soya oil, soya lecithin, calcium carbonate, sodium phosphate, sodium phosphate, magnesium chloride, choline bitartrate, vanilla flavor, potassium phosphate, sodium ascorbate, magnesium citrate, L-carnitine, taurine, calcium phosphate, nicotinamide, DL-alpha-tocopheryl acetate, zinc sulphate, ferrous sulphate, calcium-D-pantothenate, manganese sulphate, pyridoxine hydrochloride, copper sulphate, retinyl acetate, thiamine, riboflavin, folic acid, D-Biotin, sodium molybdate, potassium iodide, chromium chloride, sodium selenite, phylloquinone, cholecalciferol, cyanocobalamin. CONTAINS ADDED FLAVOR.
Lactose free. Gluten free.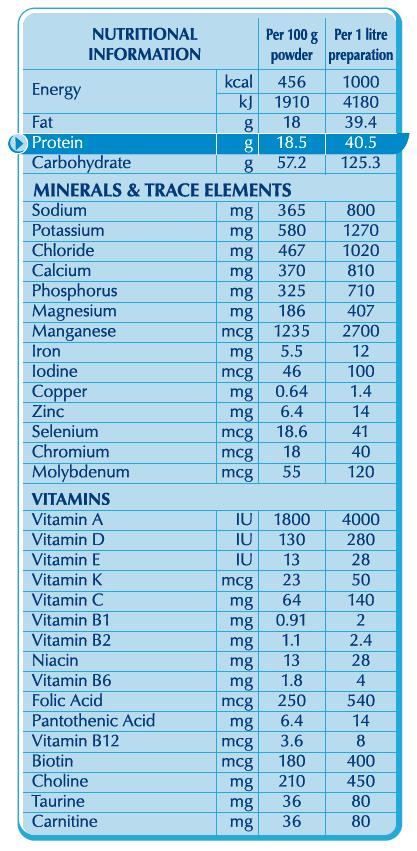 ---