BOOST™ OPTIMUM
Is an Active Adult Nutritional Powder Drink specifically designed with Proteins, Probiotics, Prebiotics, Vitamins and Minerals to address changing nutritional needs as you age.​ BOOST™ OPTIMUM may help improve your nutritional status and physical performance when combined with physical exercise in as early as 6 weeks*.​
*Abizanda P, et al. JAMDA 16 (2015) 439.e9-439.e16.
Each serving delivers 9.9g of protein, 34% (RENI) of calcium and 250 kcal energy
550 million L. Paracasei Probiotic cfu
Osmolality of 340mOsm/kg water
Prebio1 (70% FOS 30% inulin)
Carbohydrate source: Maltodextrin, fructooligosaccharides and inulin fiber
Fat (Monounsaturated Fatty Acids) is 23% of energy
Vanilla flavor
Presented in 400g and 800g powder
Nutritional Applications"indications"
NUTREN®Optimum is suitable for:
For the dietary management of malnutrition in the elderly
Beneficial for older adults to support strength and immune functions especially in periods of illness and recovery.
Maltodextrin, Vegetable Oil Mix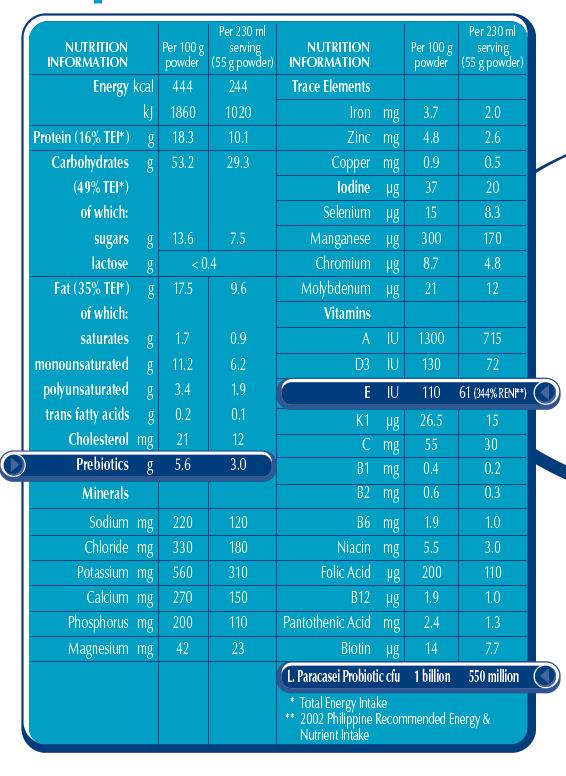 NOTICE: LINGAP Program will come to a close on March 31, 2018. Thank you for your continued support.
---